TBH (to be honest) is the new teen app sensation that got snatched by Facebook less than two months after launch, for an estimated sum of 90 million dollars. During that short time period, it racked up 5 million users and it's not even available in all US countries, let alone the rest of the world.
What What What?? (is TBH anyway)?
TBH is a social party game played anonymously. You are presented with positive, yearbook-style polls (most likely to be on SNL, world's best party planner, etc.) and then match these polls to your friends on TBH or people from your contact list.
In return, when someone picks your name in a poll, you get a notification bearing a gem. Blue gem for boys, pink for girls. Tap the gem to collect it and learn what a "Girl from the 10th grade," for example, thinks about you. (You make her laugh the hardest!)
For your convenience, here's a sketch of the app's flow: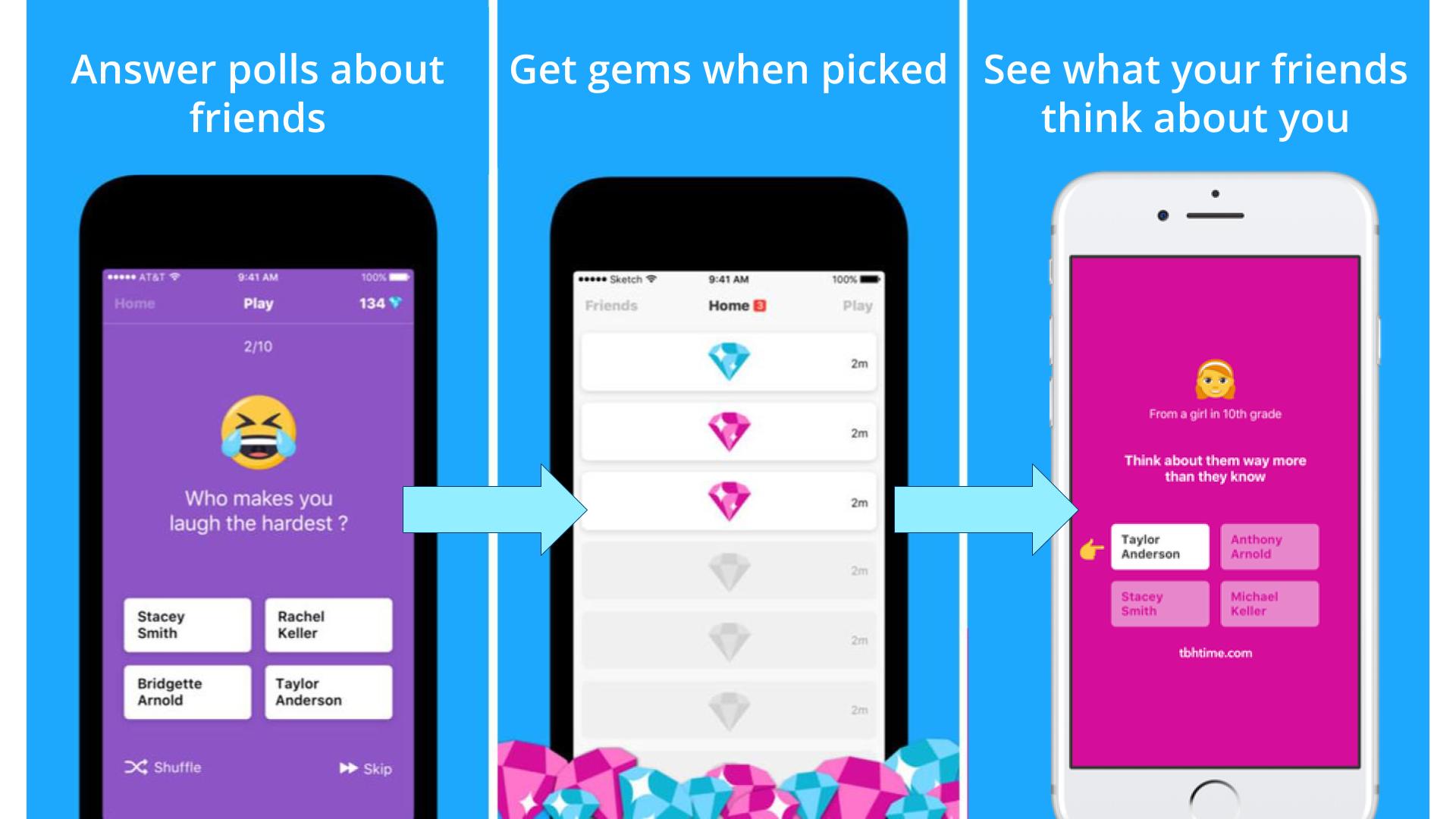 Why is TBH so addictive?
The roots of TBH addictiveness are laid out in the classic book from the 1930s called How to Make Friends and Influence People. Dale Carnegie, the book's author, has based his best-selling book and his career around one profound insight: the thing that all people in the world are most interested in is themselves.
This me culture is now amplified and taken to the extreme with apps like FB, Instagram, LinkedIn and the like, who capitalize on our need for attention. TBH takes this to the next level by filtering out every piece of content that does not involve the user and focuses the overall experience on positive reinforcements.
It's like having the ability to read people's minds but only when they think good things of you. Perfect!
TBH is relying on four different in-app units to achieve this player experience.
The Polls: The most important unit
The polls are the app's engine. They keep users endlessly answering questions and picking friends. TBH came up with a simple but solid game that keeps the polls fun to answer and rarely feels tedious.
The poll questions are light-hearted and there's a big pool of them so players won't get bored quickly. There are no wrong answers and it feels nice to give compliments, at least as much fun as it is to get them.
When you answer a poll, you see how the distribution of the question went, so you get a sneak peek into your class's popularity ranks.
Finally, there's an energy system. A cooldown time between polls so players won't binge too much in one session. It may seem counterintuitive to deny players activating the app's engine, but energy systems have proven to preserve players over time rather than burn them out with overuse on the first few sessions.
Actionable Question: Can you tell which unit in your app serves as the engine? If so, how can you make it run smoothly?
The Inbox: A delightful moment at the start of the session.
The app's inbox is where all new notifications appear when you get picked. They are hidden behind gems, which are blue for boys, pink for girls. A tap on the gem reveals the poll question that was referred to you, along with the other 3 names that appeared in the same poll so you can see who you've "beaten."
I love the way this segment was designed. Each gem is a little mystery that unravels when you tap it and, unlike other anonymous apps like Sarahah or Secret, it's always something nice that makes you feel good.
Moreover, this screen is the first screen you see after tapping the (very persuasive) push notification you get when someone picks your name in a poll. I cannot stress enough the importance of creating a delightful moment at the start of a session.
Done right, this wires the notion that something pleasant waits behind the app's icon, and in time players start to feel an internal need to go in the app and get their dose of small pleasures. If you are a Clash Royale player, you will recognize this feeling from the mystery chest you get every few hours. If you are a Facebook user, you probably know the "on this day" feature that serves the same purpose.
TBH does that flawlessly as a part of its core game loop. Whereas most games and apps tell you how awesome you are just for logging into their service (and it always feels lame), TBH has your friends say it to you.
This, my dear readers, is how you create stickiness.
Actionable Question: How can you delight your users when they come back to your app?
Profile page and friends feed
After finishing browsing through the gems in the inbox and while waiting for a new poll to begin, players can do two more things in the app.
The profile page serves as a high score-keeper of some sort, accumulating all the questions that were referred to you. This may be perceived as crowd wisdom about your personality, thus making these compliments seem a little bit more real. Also, something to take pride in.
Finally, there's a feed where you can see what polls your friends got picked in. This is the only piece of content in TBH that is not strictly about the player and serves as a gossipy filler between polls.
Summing up TBH recipe for addiction
In a nutshell, what we have here is a digital version of the Skinner box. A piece of digital software that provides a random stream of positive reinforcements. It worked in the 1960s on pigeons and on us today.
The problem with most games' reinforcements they rain on their users is that they are virtual. Coins, gems, characters, whatever they might be. TBH overcomes this hurdle gracefully, as reinforcements come from actual classmates, thus making them a lot more desirable, almost tangible.
What's in the future for TBH?
TBH obviously has much room to grow. Now with FB's money, they can take the rest of the US city by city, school by school. However, they will also need to change.
Games like these can get old quickly. TBH will have to find smart ways to keep their audience entertained even after their 100th poll. It's a do or die. Because if players start skimming these polls, the engine will begin to falter, and then there's little chance of escaping a Draw Something's fate — dead.
TBH will have to be very creative in creating new paths to keep these reinforcements going while keeping the necessary positive vibe of the app.
I'm super curious to see if in one year's time TBH will join the fate of Draw Something, YikYak, Secret and other apps that had a promising start and miserable ending, or if they will emerge as a true gamechanger. A Snapchat rival, if you will. We shall see.